THE DESTRUCTION OF
AMERICA IS OVER 50%
COMPLETE! Do not FEAR
keep looking UP! The answer
is knowing and loving and
declaring Jesus Christ!!!
We were born with an
autopilot set toward Hell.
It is nothing to take lightly
Hell is the single
greatest tragedy in the
universe - REPENT and
Choose Christ Today!


Home
Hurricone Cordless Floor Dryer
Panasonic Scanner Parts
Jerome Bible Art Ministries
TOS Table of Contents
Staber Washing Machines
About Us
Shipping and Returns
Teaching Observation Skills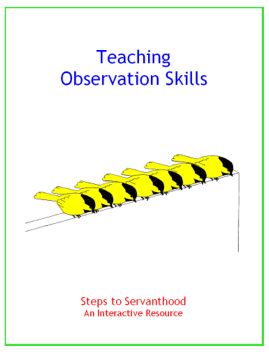 NOW downloadable PDF is available for free!!!!
To view the table of contents, click here!
Desire to raise your child to think of others first and develop a "go the second mile" view of life? Looking for something besides video games and TV? This 56 page interactive resource is written by a home educator with a heart for families. Scripture and related teaching and projects assist children to become observant to the things around them and begin serving others with humility. Helps siblings become best friends instead of fussing rivals. Best for ages about 4 to 9. Older children can help. Can be adapted to a classroom situation. Illustrated. It is ok to copy work sheets for use within your immediate family.