Electric window repair parts - your can repair your own auto electric windows
FORD LINCOLN MERCURY
Electric Window Gear Plugs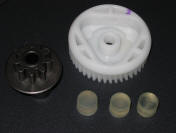 Set includes 3 plugs only (not the gears). Shipping is included.
Price

1 set for $8 per set

Price 2 sets for $7 per set
Price 4 sets for $6 per set
Price 8 sets for $5 per set
Price 16 sets for $4 per set
Call us if you have any questions, three 1/2" holes need to be drilled in the sheet metal the first time to remove the motor assembly. There are three dents in the panel that indicate where to drill.